Each year I like to post a a list of the books I read.  Some of you may find some good books to read in this list, and maybe you can find some books to avoid.  For several years I have really not read fiction at all.  Beginning last year I decided to read classic works of fiction just in the last few minutes each night as I am going to bed.  It was more successful last year than this one, but at least I am reading classic works.  (I am almost finished with the Russians.)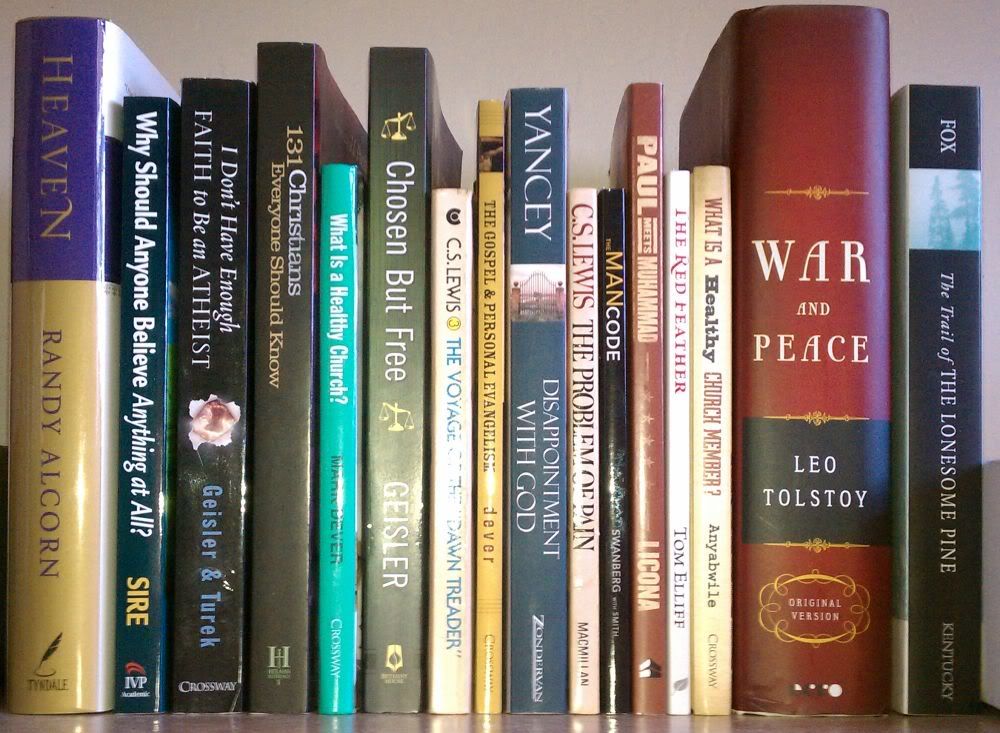 Heaven – Randy Alcorn.  The best book I read this year.  I would not say it transformed my view of my eternal home, but I would say it made me much more informed and helped me develop a much fuller view.
Why Should Anyone Believe Anything at All? – James Sire.  An excellent book addressing he postmodern worldview and the consequences of what people believe.
I Don't Have Enough Faith to Be an Atheist – Frank Turek & Norman Geisler.  If this book were not a modern classic in apologetics I would have written a review.  This book is thorough and excellent.  I will probably make it a textbook if I ever get to teach another apologetics class
131 Christians Everyone Should Know – Mark Galli.  I reviewed this excellent book here
Les Miserables – Victor Hugo. I listened to this as an audiobook (hence it not being in the picture.)  It was exciting from start to finish.  Among classic literature I would describe it as one of my 5 favorite books.
What Is a Healthy Church? - Mark Dever. I think I got this book free at the 2008 SBC.  It was quite good.
Chosen But Free: A Balanced View of God's Sovereignty and Free Will – Norm Geisler. It may be that I really liked this book because I share the same view as Norm Geisler.  However, even if I disagreed or came to a different conclusion, I would appreciate the incredible thoroughness of this book.  I doubt that there is an applicable scripture that he doesn't handle
The Voyage of the Dawn Treader - C.S. Lewis. I read this because the movie was coming out and I wanted to refresh my memory from my childhood.  It is quite a good book even if it is meant as children's lit.
The Gospel and Personal Evangelism – Mark Dever - It's worth a read if just for the "What is not evangelism" section.
Disappointment with God – Philip Yancey. One of the more useful apologetic topics I believe is the problem of evil.  Yancey is not necessarily doing apologetics here, but this book is quite good.
The Problem of Pain – C.S. Lewis. I don't fully agree with Lewis's theodicy.  but his book is a classic on the topic.  Plus the last year has been tough for me, so I might have felt a bit more drawn to the topic.
Ringworld – Larry Niven. Another audiobook it was interesting. And aparently it is a sci-fi classic.
The Man Code – Dennis Swanberg. This book is nothing special.  though i suppose it could be useful in the context of a men's ministry
Paul Meets Muhammad: A Christian-Muslim Debate on the Resurrection – Michael Licona.  Even though I really want Mike to sign off on my certification as an apologetics instructor this book didn't really do it for me.  Maybe because I have not been exposed to Muslim apologetics outside of "read the Koran"
The Red Feather - Tom Elliff. Another free book from a convention somewhere.
What Is a Healthy Church Member? – Thabiti M. Anyabwile
War and Peace – Leo Tolstoy. Not the longest book I have ever read, but it felt like it.  I'm glad I read it but really only so I can say I've read it
The Trail of the Lonesome Pine – John Fox.  I bet you are wondering why I read this book.  It's definitely not my typical subject matter, and it is hardly a classic.  Well I'll tell you why.  My grandfather, who died this year, remembered it as the book that got him hooked on reading as a boy.  So I bought it for him a few years back.  He said it was definitely not what he remembered, but I read it in his memory.  I don't recommend it.