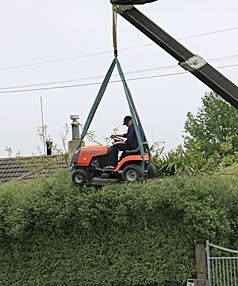 Earlier this year I spent a  couple of days as a mission project trimming hedges that looked like this. (on the left)  I wish I had thought of this system I really want to go to this.  Seriously, I very much want to go.  But it's not coming anywhere close to me.  I only heard about it this week and apparently I missed it in Charlotte.  If I could figure out how to be gone for Christmas that early, I'd try to see it in Nashville on the 13th.
Anybody want a very expensive hamburger?
I would like this shirt from shirt.woot.  How ling to do you think I can wait to order it?
I have seen this like 20 times this week, but maybe you haven't.  Read the reviews for this product
Here is a helpful poster