I am not a heavy flier.  Over the past 5 years I have flown an average of 3 times a year.  So I'm not winning any frequent flier awards.  But I do fly often enough that my business and loyalty have value. In my life I have chosen Delta Airlines three times.  The first time was my second flight ever, 1995, when I went to Washington and Oregon for my missionary summer.  I didn't buy that ticket.  And my experience was fine.
The last two flights I have booked were on Delta also, and they were a different experience.
In June I flew to the Southern Baptist Convention.   How was that experience you ask?  Well, for starters they charge $25 to check one bag.  That means $25 more for the return flight.  So I was feeling ripped off already merely because I wanted to have some clothes to wear on that six-day trip.  It got even better when I arrived at my final destination only to realize that my $25 bag never made the trip from RDU.  I was told, "We have no record of it on any of our flights." Then I was told that it would be delivered to the door before 10 p.m. or between 8 and 3 the next day.  You can imagine my surprise when there was a knock at my door at 3 a.m.  I was not refunded the $25 or given a voucher for a free checked bag on a future flight.  Nobody said thanks for flying Delta or for not throwing a fit.  Nobody smiled at me or was appreciative in any way.  I was obviously unhappy, but didn't get overly excited about it because I understand things happen sometimes.
Then two weeks ago I got a piece of bad news.  My grandfather was dying and I wanted to see him one last time.  So I booked a rather last minute flight.  Again I chose Delta, even though I was unsatisfied the previous time, and even though after the baggage fee it was only going to save me 20 bucks.  I wound up regretting that decision.
While I was home my grandfather died.  He died on Monday and my flight was scheduled for a Tuesday. So I called Delta to reschedule my return flight.  They waived a $150 rescheduling fee when I gave them the funeral home info.  "Good," I thought, "this will be a simple process."  I could not have been more wrong.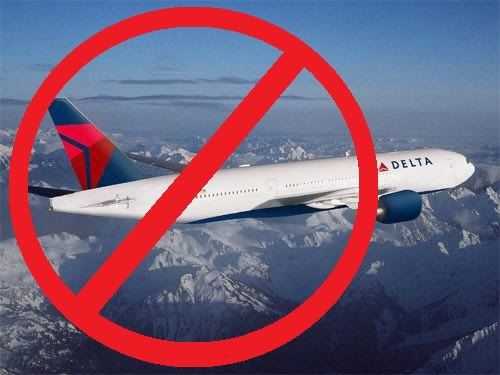 After about 20 minutes on the phone with the first rep I was transferred to a booking rep.  The first thing I learned is that I would be charged a $50 fee because I booked using an agent. (Travelocity, who I had a perfectly good experience with.) Then I was told that the remaining portion of my fare was about 39% and that I would have to pay the difference.  I thought the $50 fee was ridiculous because they still had the entire fare from that booking.  I didn't cancel, I wasn't getting a refund.  I merely wanted to take a later flight. But I was going to tolerate that ridiculous fee.  Then the bombshell; the best they could do for me was to rebook for $252.
Now, I was already having a bad day, but there is never going to be a time when this would not anger me. In addition to the high-priced fare I already paid, it was going to cost nearly the same amount to return home.
I asked the agent again, thinking I had somehow misunderstood.  "Are you telling me that in order to take a later flight it is going to cost me $252?  Almost any flight on any airline would be cheaper than that." His answer, "That's the best we can do." (I should add, it was a 6:30 a.m. flight on a Saturday…ugh)
Not good enough.
To be clear, Delta had some options.
They could have looked at the fare I paid, which was very high for such a short flight, and said, "He's already paid a lot, let's give him a deal." (It was over 70% more than that flight normally is. I usually fly Southwest for about $160, this flight was $277.)
They could have said sorry about your loss, we'll be happy to reschedule.
They could have given me a voucher for the remaining portion of my fare, and allowed me to find a cheaper Delta flight through an agent. (I definitely could have)
Instead they chose to take a different option.  They decided to keep remaining portion of my fare, force me to purchase a different ticket on a different airline, (because nobody is stupid enough to actually take what they offered me) and never sell me another ticket.
So I will be certain to give them exactly the option they chose for me. They got my money for the return flight, and probably resold the seat. I will never give another cent to Delta Airlines.
I feel like I should restate that - Delta Kept my money but lost my business
BTW, I chose Southwest, an airline that has never let me down.  I am blogging about this because It's obvious they are not concerned about my business or my opinion, so this should not bother them in the slightest.