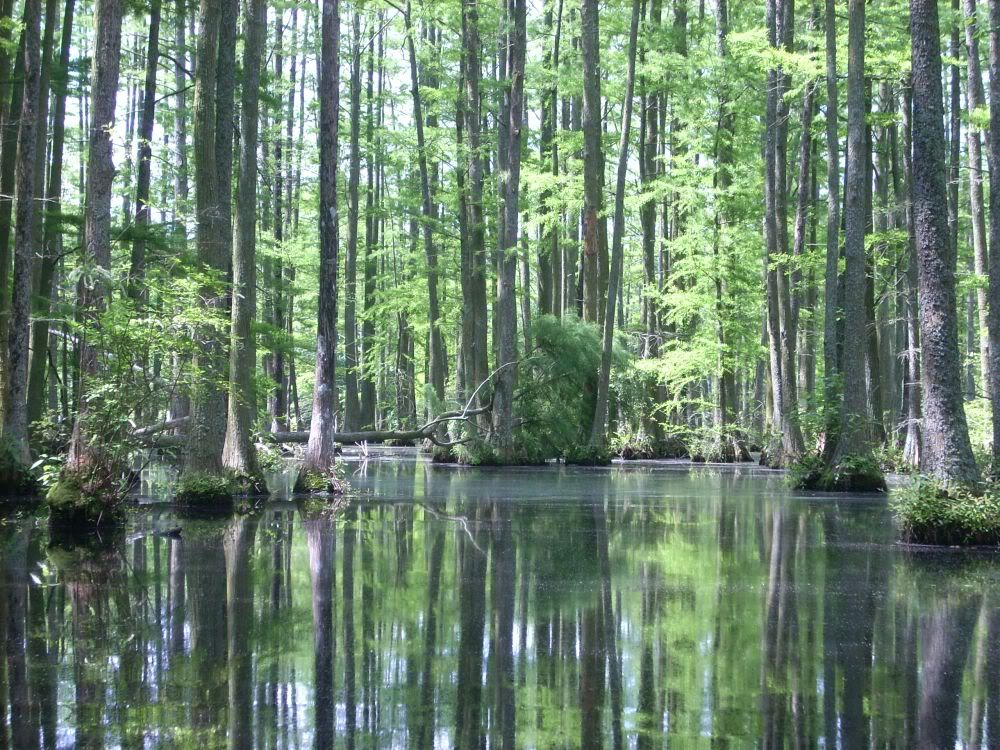 About a week after  I moved to North Carolina, I drove past a beautiful lake called Rhodes Pond.  I was told it is private but has really good fishing.  That was 6 years ago.  About a month back I heard that the state owned it now and that it is free to fish.  So, last Friday, since I already had an errand on that side of town, I decided to try it out.  Before going, I googled Rhodes Pond to see if I could learn anything useful to help out with fishing there.  But there is absolutely no new information.  The most recent info I could find at all, was about the dam and dated to 2007, completely unhelpful to a fisherman.  So I'm writing this post about my experience just so there will be something useful as a guide for others.
Time & Conditions: We fished there on a hot day in mid-May.  It was the hottest day of the year so far.  The morning began heavily overcast, threatening rain, but became only partly cloudy and about 93° before we left.  We arrived about 9:00 am and left at 1:00 pm.
The Lake: I kept reading the Rhodes pond is a "black water" lake, but I don't know what that means.  (Although the water is very dark, so maybe that's all it means)  It is an impound of the Black River and it is 461 acres.  (Here are the coordinates for use in your GPS or with Google Earth35.2293, -78.6517)  It has an excellent ramp, as good as any lake I know of that is limited to non-gas motors.  The lake is divided into two sections by a long peninsula.  The part with the ramp is unfishable because of the weeds.  Maybe I just don't know how to fish in weeds, but that entire half of the lake has weeds growing up to within a foot of the top.  Not one cast came back clean for me.  (Much like Smith Lake on Ft. Bragg)
On the other side of the lake the water is quite clear.  There are cypress trees scattered in the main lake, fields of lily pads and dollar pads around the edges, and a forest of cypress trees inside the pads.
The fishing: Uhhh…there's probably fish in there…maybe.  For such a beautiful lake with limitless cover, Neither me nor my co-angler got as much as a bite.  I fished my 2 standby baits, a Rapala super shad-rap (because I mostly fish shallow-water lakes), and a spinner.  I even threw a 4" tube around some of the Cypress trees.  Jack fished red worms trying to catch a bluegill.  There was one other boat on the lake but I couldn't say if they caught anything.  And there were 2 people fishing from the levee in the other side of the spillway.  One of them said he had 8 crappie.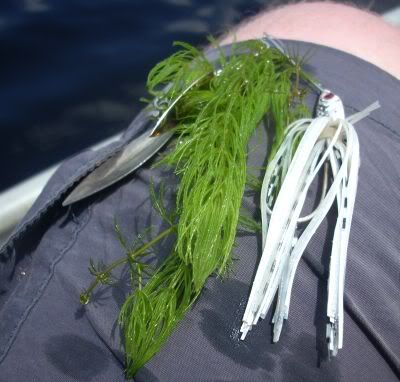 My final verdict: I don't know of a more beautiful lake anywhere.  But I'm also not smart enough to fish it.  Too much backwater, too many weeds, too many pads and too much cover.  I would have settled for a grinnel.  If anyone reads this that had luck, let me know in the comments how you caught em.
After writing an entire article about Rhodes Pond does that make me a Rhode's [pond] Scholar?